Keyword Research is very important because your customer use google to search out your web page by search keyword. So if you can find the best search keyword for your article, then you can get more and more traffic to your article by google search. In this article, I will tell you how to use Google Search Console, Google AdWords – Google Keyword Planner, and Yoast SEO WordPress plugin to get the best search keyword for your article.
1. Find The Search Keyword Which Gives Your Article Traffic.
For a new article

, you first need to pick a good title for it. Then you can google the title to get the most related title.
For example, if you name the article title as how to use jquery in html, then you should google the title and get the related title from People also ask area of the search result.

People also ask
How can I use jQuery in HTML?
Can you put jQuery in HTML?
How add jQuery library to HTML?
Why is jQuery used?


You can also get the related search keyword from the google search result list page bottom —> related search area.

Searches related to how to use jquery in html
embed jquery in html
jquery cdn
download jquery
google jquery cdn
jquery w3schools
jquery format
jquery library
jquery definition

You can also check the top pages in the search result list to see what content they wrote and do some keyword search in their article, then you can learn from them.

For an existing article

, you can get the search keywords from google search console —> performance —> search results section, you can read the article How To Use Google Search Console To Analyze Why Your WebSite Traffic Dropdown to learn more.
2. Get The Best Search Keyword For Your Article With Google AdWords.
Now you have got enough keywords related to your article, but which is the best keyword for your article, you can use Google Adwords —> Google Keyword Planner to do a keyword search follow below steps.
Log in to Google AdWords, click TOOLS & SETTINGS —> Keyword Planner menu item to open google keyword planner wizard.

Click Discover new keywords in the next wizard dialog. Input the search keyword ( you have collected in section 1 ) in the input text box. Click the GET RESULTS button to get the related keyword list. You can input multiple keywords separated by a comma (,) in the search box.

Order the keyword search volume by click the Avg. monthly searches column header in descending order. You will know which keyword has the most monthly searches, then you should focus on those keywords in your article.
3. Use WordPress Yoast SEO Plugin SEO Feature.
Besides above methods, if your website is hosted with WordPress, you can install Yoast SEO plugin which is an awesome keyword search tool. Yoast SEO plugin provides an SEO feature, this feature can help you to do keyword search by return related search keyphrase's volumes and trends.
After you install Yoast SEO plugin for WordPress, when you edit an article, you can find it at the end of the page. Click the SEO tab, and input the keyword which you are focusing, then click the Get related keyphrases button.

Then it will popup a window that will show all the related keyphrases's volume and trends.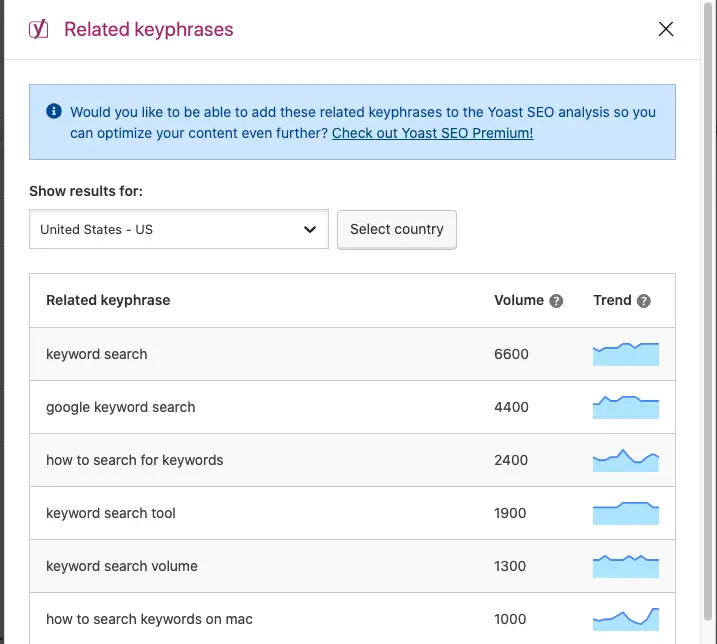 When you scroll down the Yoast SEO SEO tab, you can see an SEO analysis area, it will tell you the keyword SEO quality and which you should improve in the article content.